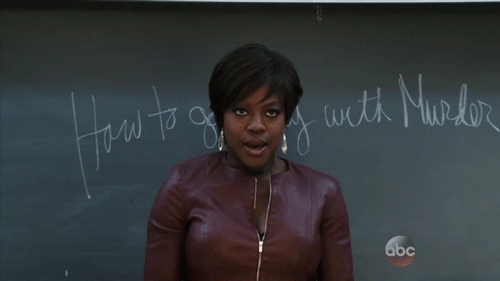 Yaass!!!! HTGAWM is the best show EVER!!!!! If there is ever a time where you're bored and have nothing to watch definitely watch this show. Not only is it the most interesting TV show I've ever watched but its full of plot twists and most of them you don't expect. Watching this show really killed my soul and hurt my feelings because honestly it was just surprise and shock left and right and my brain could not deal. If you hated the way Pretty Little Liars dragged everything out then you would love the pace of this show. Nothing happens too fast of too slow.
How To Get Away With Murder is about a College Professor named Annelise Keating (Viola Davis) who tells her students she is going to teach them "How to get away with Murder. At the beginning students are given a case to study and she chooses 5 students to help her in her real life law practice. The five students are Wes Gibbins (Alfred Enoch), Connor Walsh(Jack Falahee), Asher Millstone(Matt McGorry), Michaela Pratt(Aja Naomi King), and Laurel Castillo(Karla Souza). The other two people I going to add here work for Annelise and you have to watch the show to learn about these characters Frank Delfino (Charlie Weber), he is honestly my new obsession I love him and Bonnie (Liza Weil) Hate her.
When a student of the name Lila Stangard is found dead in a water tank, the prime suspects are her boyfriend and her best friend. One of the students is caught in the middle when he falls in love with the best friend and he trys everything he can to prove she is innocent and to find the real killer. Its honestly not just that there is so much more and it was kind of a choppy on the spot summary I just wrote with the help of the interweb. This post will not do this show any justice you just need to watch it to understand what I mean.
Also I will always think that in the scene above Michaela was totally talking to me. You learn so much in this show and it so good and messed up. Im done rambling just watch it its totally worth all the time you spend watching it (If you do watch it).