Wooh! 2016 has destroyed my life with a lot of TV shows coming to an end as well as epic new seasons. So here is a list of my favorite and most anticipated TV shows of this year. I will be including release/end dates as well. These aren't in order or anything either. I'm not 100% sure about all the dates so if they are not correct please leave me a comment letting me know.
Game of Thrones:
Okay so let me just say.... GAME OF THRONES IS THE BEST THING THAT HAS EVER HAPPENED TO ME!!!!! Season 6 was just AAAAHHHH!!!!The last five or six episodes were amazing!!! Unfortunately next season will be the last. *tears* So I know without a shadow of a doubt that season 7 will be fricking EPIC!! The season will start in Summer 2017. By the way can't you tell this is my favorite show? I love this!! Everyone should watch it (not kids).
The Vampire Diaries:
I've been watching this show since the second season ended and it was my favorite show for a while until I stopped keeping up with it. This show is also going to be premiering its last season this year! Thats so sad! This show has been with me since middle school and I am so sad it is ending. The show will come back Friday, October 21, 2016.
Teen Wolf: I remember watching Teen Wolf before the third season premiered. Obsessively watching the first two seasons while it was still on Netflix and falling completely in love with all of the characters... Yes this show is coming to an end this year too... This makes me especially sad because this is a show that my cousin, my uncle my brother, and I bonded over. Having group texts while the show was on. This is the last year that this might happen!!!!!!! Ah!!! This show will be coming back Tuesday, November 15, 2016.
Bates Motel: I'm not caught up in this show but oh my goodness this show is so good!! I love the Characters and how insane this show is. Also the ships... Who doesn't love the ships? Also this show gives me a feeling that no one is ever safe which is kinda true. This will be ending after the fifth season. The new season airs January 3, 2017.
Grey's Anatomy: I've been watching this show on Netflix and oh my goodness!!!! THIS SHOW IS SOO SOOO GOOD! I'm on season 6 now and it is just so sad! This is one of those shows that makes me cry in almost every episode as well as make me angry and happy at the same time. This show has been renewed for the 13th season goodness!! I don't think I will ever catch up! The 13th season starts Thursday September 22, 2016.
Supernatural:
I LOVE this show so much! I heard that it was going to have a 12th season and I am dead because I kinda liked season 11 a lot. I've been watching this show since my freshman year of HS and it consumed my life for a while. It comes back October 13, 2016.
The Office:
One of my friends from school was always telling me to watch this show and I never wanted to because I thought it was stupid. I was so wrong. This show is HILARIOUS!! Im currently on season 5 and I can't wait to finish it. This show is not currently running because it is done but I've been watching it on Netflix.
Once Upon A Time:
I started trying to catch up on the fifth season recently and I completely forgot how much I love this show. If you don't know Once Upon A Time is a show about all of the fairy tale characters. They were put under a curse by the evil Queen they can never have a happy ending and are stuck in this small town called Storybrook. It basically doesn't exist on any maps anyway.... This girl Emma ends up entering this town and its about her. I can't really explain what it's about well just watch the show! The show will return Sunday September 25, 2016. By the way Captain Hook is my child.
The Walking Dead: Oh my gosh! I have to talk about this show because I'm still not over that finale. The stress was real!!! I feel like everyone knows what TWD is and if you don't get out from under that rock and watch it!!! This is the only zombie show I will ever watch because it is a good show and I think that it will appeal to everyone. Just a warning its super gory (AWESOME!!).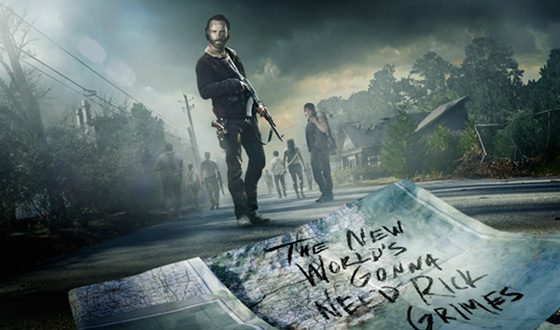 That's it! I really love all of these shows and I highly recommend all of them to you guys. Seriously give these a try!