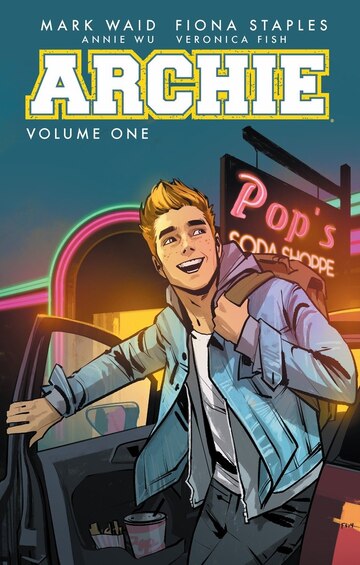 America's Favorite Teenager, Archie Andrews, is reborn in the pages of this must-have graphic novel collecting the first six issues of the comic book series that everyone is talking about. Meet Riverdale High teen Archie, his oddball, food-loving best friend Jughead, girl-next-door Betty and well-to-do snob Veronica Lodge as they embark on a modern reimagining of the beloved Archie world. It's all here: the love triangle, friendship, humor, charm and lots of fun – but with a decidedly modern twist.
I'm not going to lie. The only 2 reasons I had for buying this book is 1, Fiona Staples did the art. If you don't know who she is, she does the art for Saga and some other stuff, She's amazing!! And second is just that I love Riverdale so much that I want to own anything that has to do with Archie and the Gang.
Now let me just start by saying that I hate Veronica even more in this book than I do in the show. She was so irritating and since I knew that Archie and Betty were together at one point seeing her was just annoying. I obviously loved seeing Jughead because I love Jughead! And I kind wish He and Betty were together 😭 because I ship it!
I don't even know what to talk about when it comes to this. The art was as always beautiful. I really like Fiona Staples style and the story itself was good. It got boring at times but it wasn't too bad. I do want to buy the next couple volumes so I can continue the story and hopefully see familiar and new characters.
I guess that's all I have for now. So okay... Bye! ☮